It is almost 2 years ago I did my volunteerwork in Cambodia and finally time to write another blog as promised.
One of the assignments was to portray the so called "Softies Ladies", a small group of local women in a small village called Kompheim, 35 min. by "tucTaxi"from Siem reap. The question was also to put make happy colourful portraits . Is was for promotion and the website.
Husk Foundation provides these women a good working environment  in the area of the Kompheim English community school.  They make from olf fabrics, gathered by the foundation, "softies", small figures and objects to sell on the local markets  and the Husk website. In this way they have additional income for their families and most important is , regular work.
I had to take portraits in and around their houses, solo and with their children.  On the back of a moped, with my stuff on my back over the sandy paths . In the pauze of their work. Sun at the highest point. Given conditions for the photographer . I had to deal with it.
They live in houses build of wood and palm leaves.  Once in a few years they have to refresh the walls with new leaves.  They live together in one single room, with some thin mattresses covered with a cloth. Sometimes with a clamboe. The cooking stuff is underneath the room on a wooden platform. More on that in a later blog writing.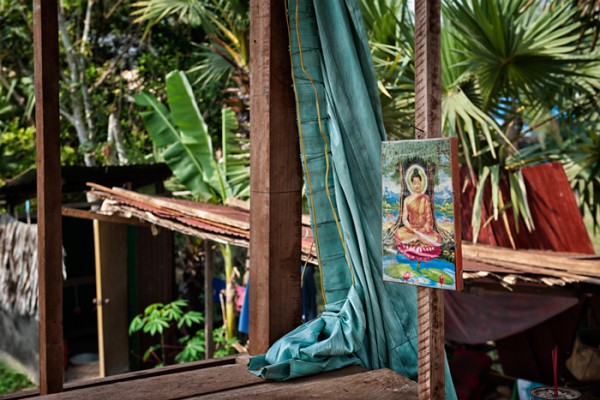 – Ms Hout –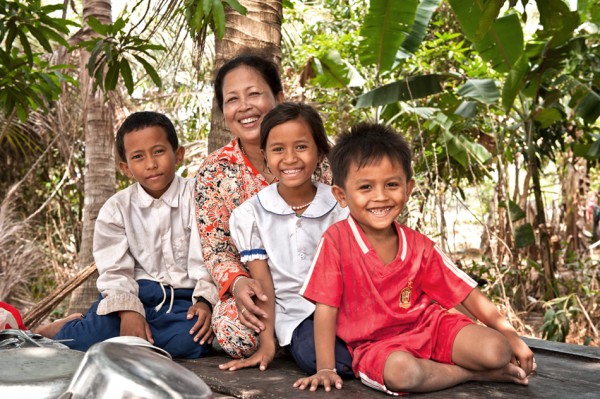 Maried with 3 children, the youngest is 8, the oldest 13. They all attend the goverment school and in the afternoon the kompheim English community school. Before the Softies program she worked as a construction laborer. This involved carrying heavy cement and mixing it and passing it to workers. for up to 8 hours a day as two hour shifts and when work was available she could earn $ 2.50 per day . In the 2 hour brake she would wash other peoples clothes and earn several dollars per week. . Work was irregular. Her husband also works in the construction and cold earn up to $ 5 per day. To get to the work they had to travel 18 km by bike to Siem Reap. Before the softies program they did not have enough money to pay for food or medicine for her children.   For the future she want all her children to go to good schools and have good jobs in the future.When I took the photos she asked me to take them so that you could not see that there was a teeth missing.
– Ms Preach –
42 years of age. Three boys, two are at the goverment school and one was born in Thailand. His name is Vesna. Before she left Siem Reap to try and earn money in Thailand as corn harvesters also earning up to $2 per day.Now she can stay close to her family and stay with her children.
From her I don't have pictures at her home because during my stay she was gone because of health problems.